A couple of you have been asking which biographies I referenced in previous posts or which books are my favorite.  Here ya go!
I organized the books into two categories: (1) the books that were my 'firsts' and (2) the books that became my 'mosts'.
THESE ARE MY 'FIRSTS':
The first book I ever loved: The night before my 7th grade test on A Tale of Two Cities, I cracked open the book for the first time.  My plan was to skim through and memorize key chapter titles, but my strategy was sabotaged by the perfect symmetry of the opening sentence.  I was hooked from the first paragraph.
I stayed up all night, pouring over the book and when I finally reached the last page I found myself inconsolable.  I didn't know a book could stir in me such joy and sorrow all at the same time.  I remember going to my parents' room in the middle of the night for comfort, because I just didn't have the life experience to recover from such a devastatingly beautiful story.

The first book that made me love words: I didn't know until Steinbeck. I just didn't know that words could wrap around themselves and create worlds. I didn't know that lines on a page had the power to make me taste the dryness in the air and feel the weight of the heat.
Reading Grapes of Wrath was a lesson in how to study the Bible. I would pour over the meaning behind every metaphor and word choice, and Steinbeck proved to me that great writers have intention behind each punctuation mark.  He taught me to dig beyond the surface and be changed by words.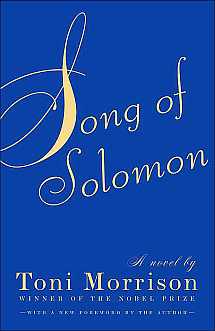 The first book that made me love writers: As far as first sentences go, Dickens has nothing on Morrison.
When I opened the first page of Song of Solomon I was undone.  I had never encountered a writer who seemed to so effortlessly pour liquid poetry onto the page and tell a story that was somehow disturbing & repelling, yet desperately & darkly redemptive.
Toni Morrison is the reason I get weirdly angry when people call books like Twilight 'good'.  I can't help it; she made me a snob.   There is a difference between being a writer and writing.  Since I was a kid I've wanted to 'write', but it wasn't until I read Morrison that I realized I wanted to be a writer.  I wanted to taste the joy of twisting sounds and syllables into stories.
THESE BOOKS ARE MY 'MOSTS':
Most Encouraging Book: The summer I read Jonathan Edwards' biography was one of the most refreshing, healing and restoring summers of my life so far.  Read the story of that summer if you want more info!

The Most Influential Book on my Faith: This is obviously a tough category.  There were a lot of good nominees, but the winner is John Piper's Future Grace.  So far, in my walk with Jesus, this book has been the most transforming.  This book forced me to recognize that most of my relationship with God was based on a backward looking faith; every part of my walk was based on a desire to 'give back' to God because of all that He had given me.  I misunderstood grace.  I didn't realize that every act of obedience is me getting more from God, not giving more to Him.
John Piper uses words very differently than Morrison, Dickens or Steinbeck.  I think he would agree with me that he is a theologian not a writer; words are a tool for him to convey a truth.  Through him I learned that not everything that's written beautifully is true, and not every metaphor that moves my heart is real.  I learned that words can be functional as well as magical.  I learned that there is room in writing for simplicity and structure.
Pick it up.  Even if you just read the first 3 chapters, I think it will change your life.  You can also listen to Piper's seminar series on the content.
Most Influential Book on my Thinking: I told one of my coworkers that I can actually feel myself getting smarter as I read Jonathan Edwards.  When I first picked up The End for Which God Created the World I learned pretty quickly that I was going to have to study the book, rather than read it.  Edwards uses words like a surgeon uses a scalpel.  His logic is devastating and his precision of thought is exact.  He places words meticulously and carefully on top of each other until he's built a logical argument that is unyielding.
Each sentence took me about a month to chew through, but it was so worth the battle.
With Dickens I learned that words can go devastatingly and disarmingly deep into your heart in a matter of hours.  Edwards taught me that there are depths of the mind that are uncharted, and if we will turn words over and over in our heads they will eventually drill into even the deepest thoughts and shed light.
As I was writing this blog post I just kept thinking of more and more books I love.  I couldn't image leaving this page without mention of Passion and Purity or Radical, or Feelings and Faith. It makes me physically uncomfortable to think about writing this list without mention of C.S. Lewis – my closest Christian friend and primary influence for so many years.  But each time I start to give one more book some space, a million other titles come to mind, so I'll have to just leave it here and add the disclaimer that this list is woefully incomplete.
The big take away for me today is that words really are powerful.  Pretty much every person you see has become who they are because of the words that have washed over them throughout the years.  I want to be someone who chooses my words with this in mind; who uses them to stir the faculties of those around me to respond to truth.  Lord willing.
Which books are your 'firsts' and 'mosts'?